Windows users: You can use Windows Explorer and just drag and drop your files/folders into the server, just as you can with any folder. Just open Windows Explorer, type or paste ftp://shadowsys.serveftp.net into the address box, and hit Enter. (If you wish to use a dedicated FTP client and don't have one, see the Mac OS instructions.)
You will see a dialog box like the one below.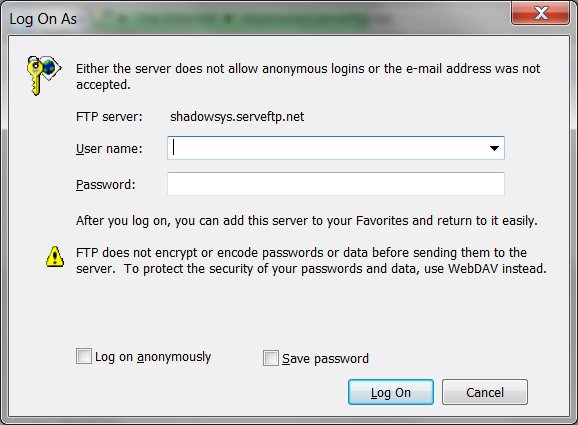 Enter your user name and password in the appropriate boxes. You may check the Save Password box if you wish, but do not check Log on anonymously. Our server does not accept anonymous logins.

Click the Log On button.
When login completes, the right-hand pane will display your FTP server folder. Just drag your folders/files from the left-hand pane (your computer) to the right-hand pane (the server).
Mac OS Users: If you already have FTP client software, provide your client with the host name shadowsys.serveftp.net.
If you don't have an FTP client, you can download the free FileZilla client from: http://filezilla-project.org/ . FileZilla can also be used by Windows users. FileZilla provides a simultaneous local/remote view in side-by-side panes. Simply provide the host name (shadowsys.serveftp.net) and your username and password, as below, and click Quickconnect. You can then drag/drop files between your computer (local site) and our FTP server (remote site).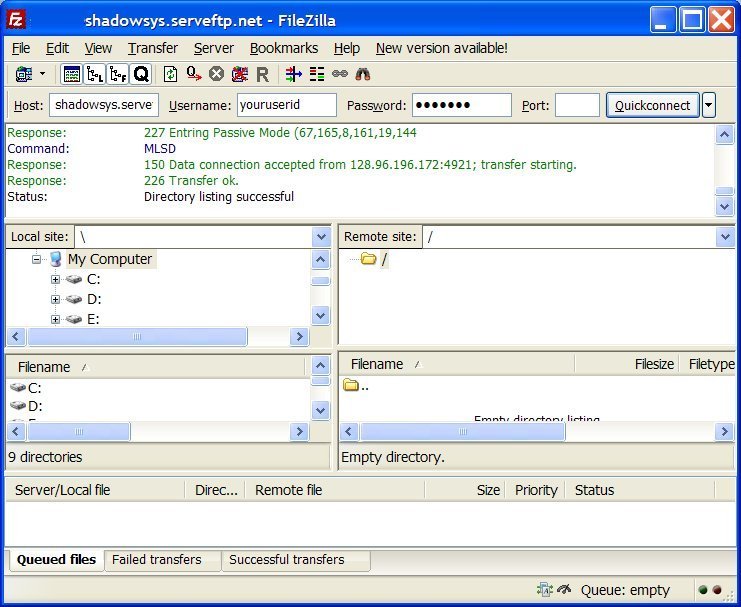 Additional info...
Your FTP account has full user permissions.
You can upload, download, create, and delete files and folders as you wish.
Send a file by mistake?
Simply select the file by clicking on it, then press the Delete key.
Picking up a file from us?
Just drag/copy the files/folders from the server pane and drop/paste them where you wish on your computer.
Questions?
If you need any assistance with file transfer, please contact us.